Twin Photo Session – And my secret to getting natural smiles from kids!
Oh  my goodness, I had SO much fun with these sweet little twin girls!  Mom wanted to do a playful, fun summer theme, complete with sunglasses, tropical drinks, and PINK FLAMINGOS–so awesome!!  I can not look at these two without getting a big smile on my face.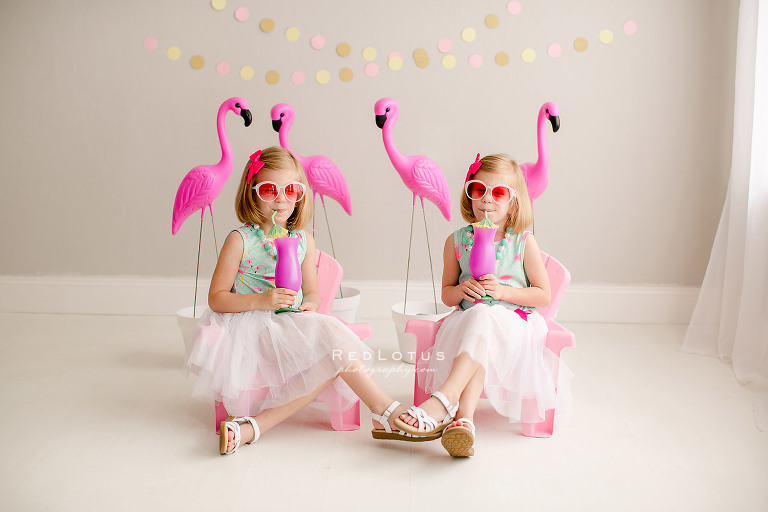 I loved how they whispered secrets to each other and giggled…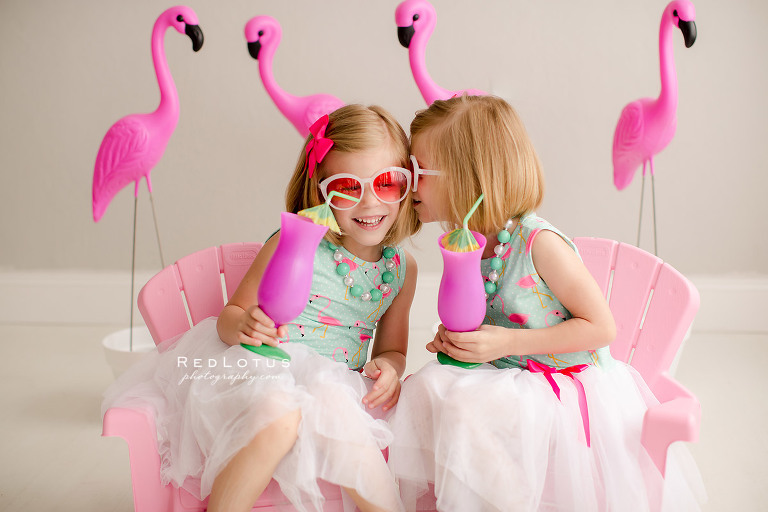 …and sometime busted out in a big belly laugh.
If you've ever wondered how to get kids to show genuine, natural smiles instead of the stiff "cheese" smile you often see in photos, I'll tell you my secret.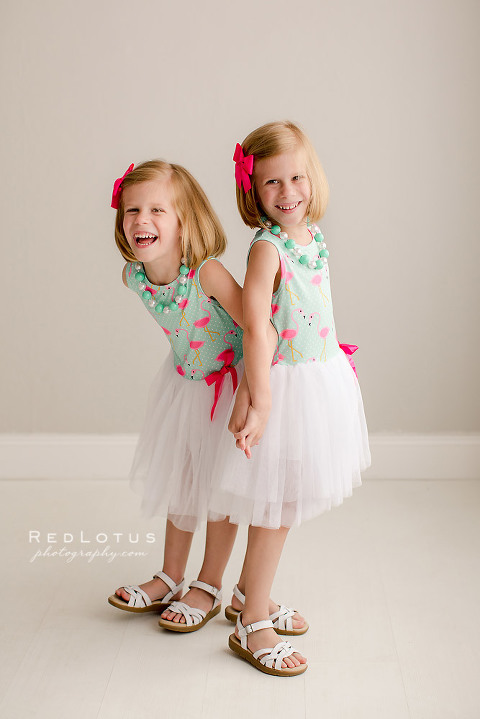 The first thing I do is give them a little space when they first arrive at the studio.  I smile and say hello, keeping the eye contact brief, and then I let them get acclimated while I talk to the parents.  When my daughter was little, she was always shy when she arrived at a new place.  She didn't like it when people came right up to her and expected her to smile,  jump into conversation, or even give hugs to relatives.  She needed a minute to become acclimated to her surroundings first.  I can't blame her—we all need to get our bearings when being introduced to a new situation and new people.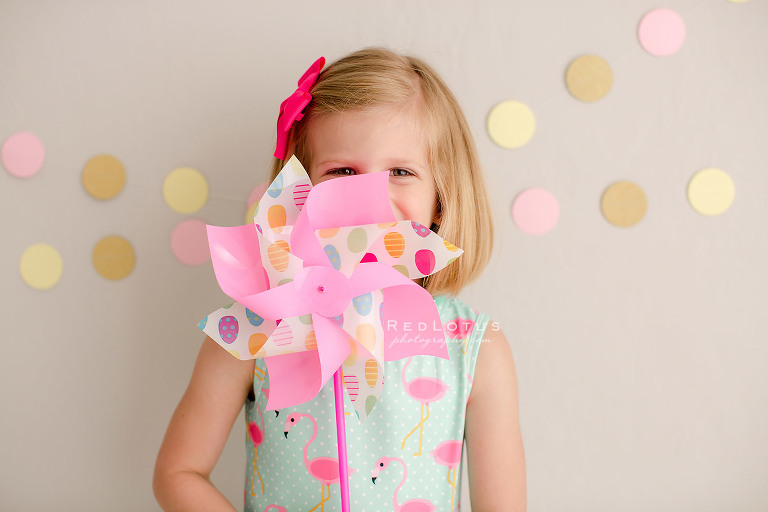 When first interacting with little ones, I sit down on a chair, a stool, or sometimes even the floor.  This puts me at their level, rather than towering over them as an adult.  Well, ok, I'm only 5'2″, so I can't say I tower over them, but you get the idea.  🙂
I start with a simple pose, not worrying too much about the first 5 minutes or so of photos, because everyone takes a little bit of time to warm up.
I encourage some movement to help loosen them up.  Yes, it's ok to dance, twirl, and jump, I tell them.  Go ahead and get silly!  I take a photo while they are jumping and then show it to them, telling them how awesome they look.  This usually gets the smiles started, and opens them up for a little bit of silly banter.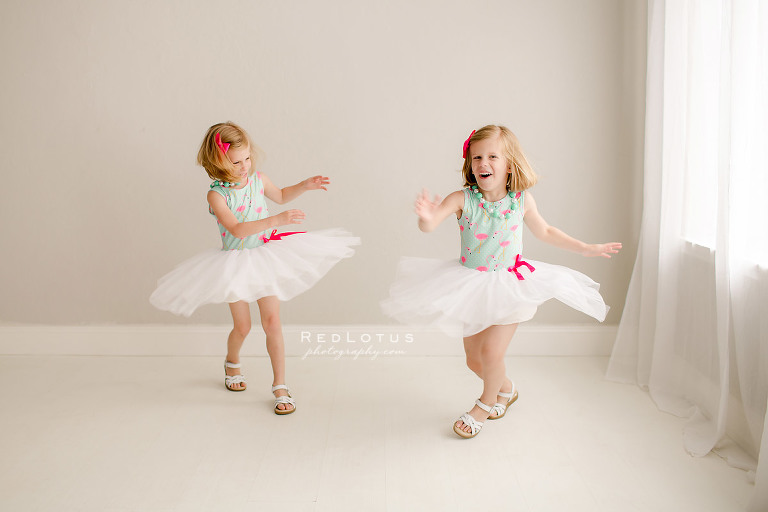 That is when I start asking goofy questions to make them smile.  If there is one thing I've learned about kids, it's that they love it when I get things wrong.  So I might ask the a girl to pose for a photo, and then say, "I think I remember your name…it's Frank, right?  Right??"  That usually gets a grin and a shake of the head.  "Don't tell me, I know it.  It's….Marvin.  Right??"
"No!" she laughs, and I take a few shots.
If I'm working with a boy, I might say his name is something boyish and cool, yet funny, like "Robot Man" or "Dinosaur".  This is a fun game to play with kids!
This method works for a lot of different games; the important thing is to just have fun.  I adore kids, and I love being silly with them!  If I'm relaxed and smiling, being goofy, and putting out an easy-going vibe, that allows them to feel like they can, too.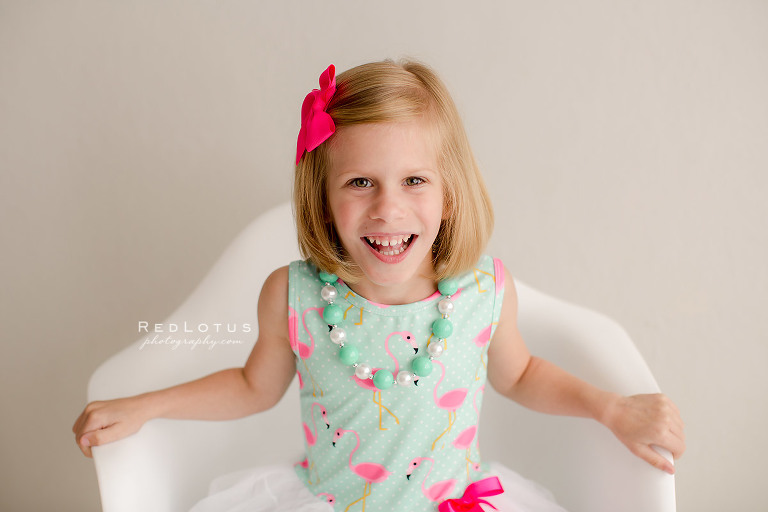 I have several variations of the "get it wrong" game, but there is one secret weapon I have that works every time.  If the child is old enough to understand jokes, they will laugh at this one.  The funniest thing I do to get natural smiles from children at a photo session is to sing kid's songs with the wrong words!
For example, one of the songs that I am famous for is Twinkle Twinkle Little Star.  I tell them, "I'm going to sing you a song while I take your pictures.  I know all the words.  It's called Twinkle,  Twinkle.  Ready?"  And then I sing, "Twinkle, twinkle, little frog, how I wonder where's my dog?"
I stop and get a funny look on my face, and say, "Wait, is that right?"  I see a little smile begin to form as they realize what I've done there.
"Hold on, let me try that again.  I've got this. I know all the words.  Ready?"  I ask them.  Their eyes light up in anticipation, waiting to see what I will sing next.
"Twinkle, twinkle, little lizard, how I wonder where's my gizzard.  Wait a minute–that's not right!" I exclaim as I smack my forehead.  "Oh, that is so silly!  It's not lizard, is it?"
"No!" They laugh.  "It's twinkle, twinkle, little star!"
"Are you sure?" I ask them.
"Yes!!" They yell.  "Sing it right!"
"Ok, let me try again,"  I say, loosening up my shoulders.  "I can do this.  Here we go.  Twinkle, twinkle, little snake, how I wonder where's my rake."
"No, that's not right!" They laugh again, as I continue snapping away.
It's such a fun and silly game that can go on for quite some time.  The best part is when I see them at the next photo session, and as soon as we start, they are already requesting me to "Sing Twinkle, Twinkle!  That's not right!!"
Here's a cute photo of the twins "teaching" me how to sing it correctly.  🙂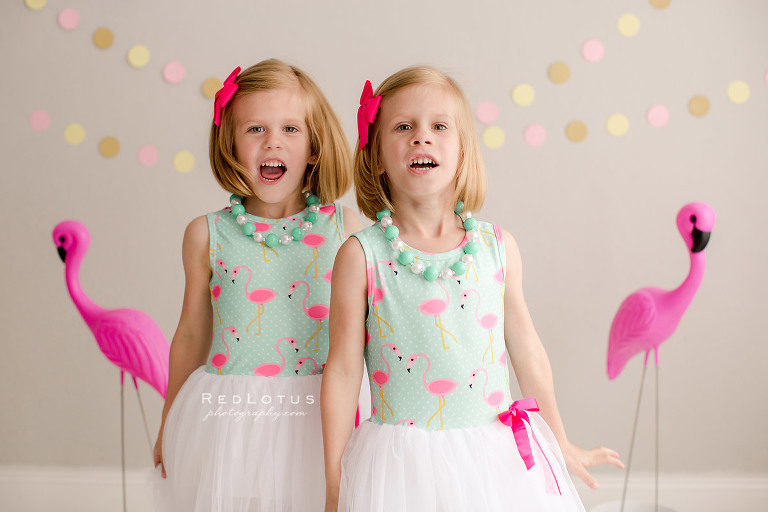 By the time we reach the end of the photo session, we are like old friends, and the kids are excited to show me what they can do.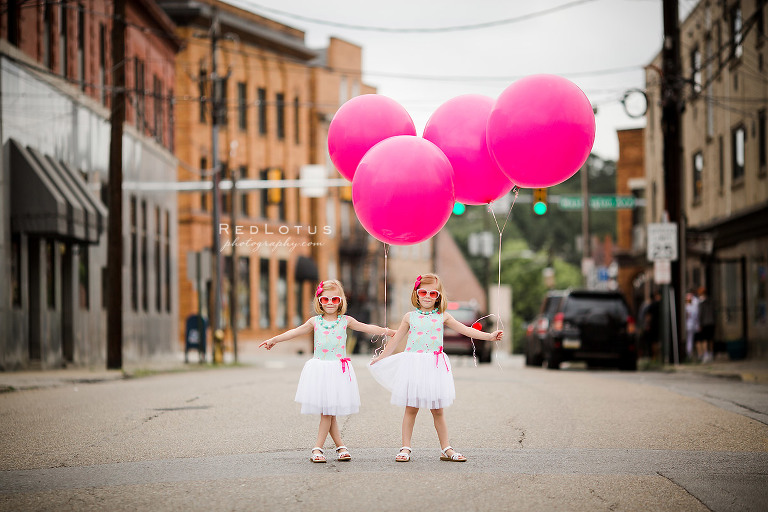 Now that you know my secret, maybe you're thinking that these little games will be fun for your kids, too.  If you're searching for a photographer that loves children, I'm your girl.   If  you're craving family photos that show your kids' real personalities and genuine smiles, contact me today!