Babies Smash Cake Smash Ideas ~ Photo Session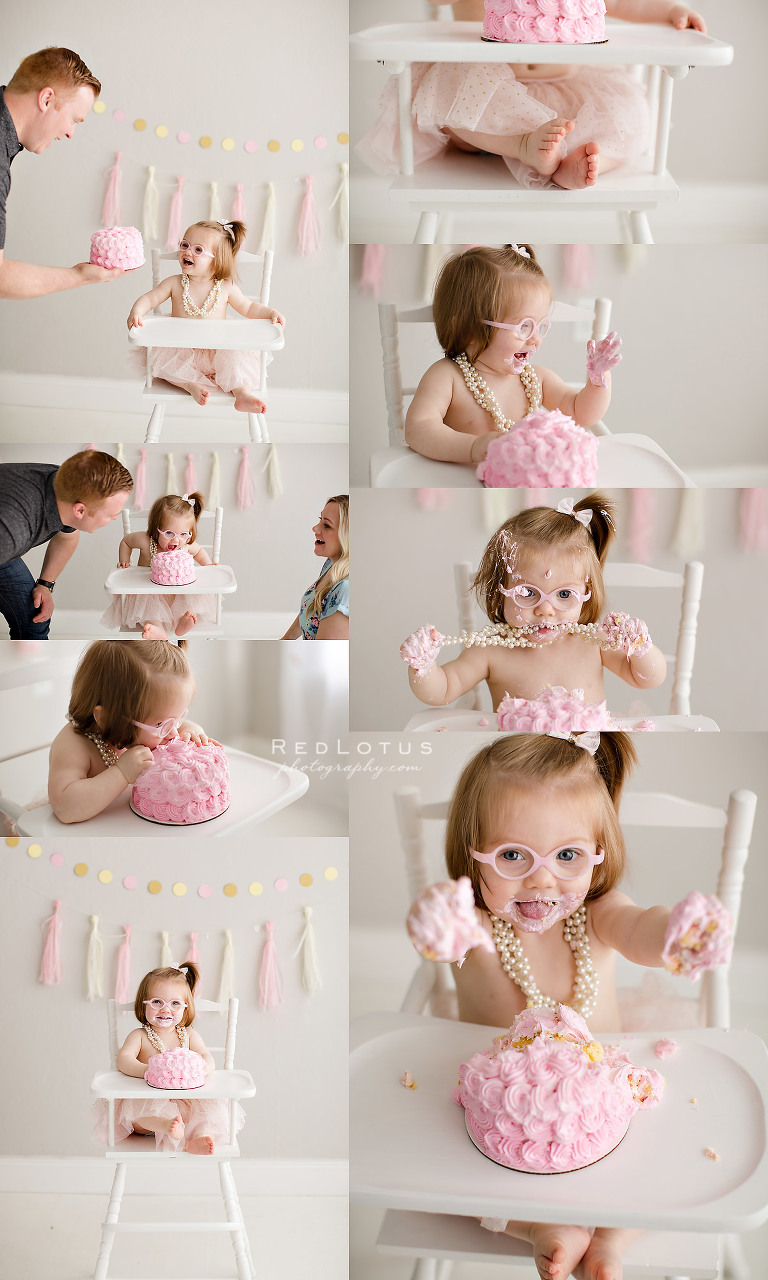 What a perfect way to celebrate baby's first birthday – with a Cake Smash Session!
Packages begin at $595 and includes 1 hour session, birthday cake and decor, online gallery, 20 digital files of your choice (retouched, high resolution images in both color and black and white with print release), usb drive and a set of 4×6 proof prints in a keepsake box. There are of course more than 20 photos to choose from; I will show you all the photos from the session and you can make your selections from there; you can also add on the remaining files if you like, along with any prints and albums.
Cake Smash Sessions take place in my studio in the morning or early afternoon.  Outdoor sessions take place on weekdays during the evening hours, when the sun is setting and the lighting is best.  The cake smash mini is generally for baby, however parents and siblings are welcome to step in for a few quick shots.
Ready to schedule a session?  Use the handy online scheduler below, or Contact me to request a full pricing guide!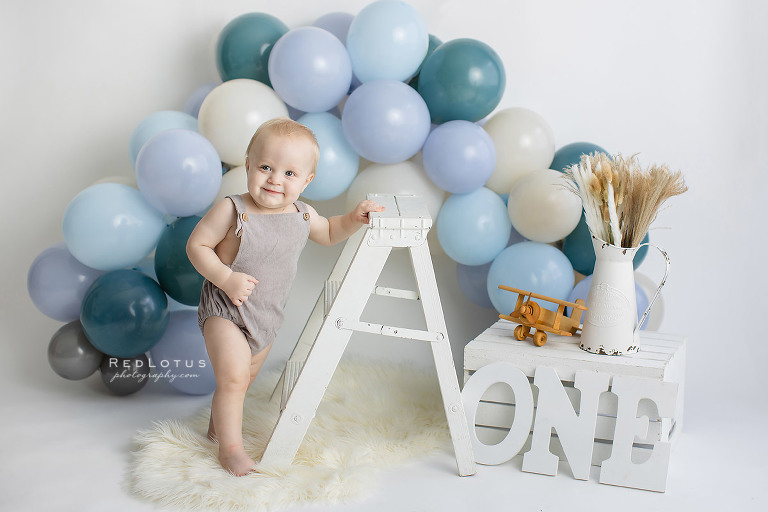 ~~~~~~~~
Q. What is cake smash?
A cake smash is where a one-year-old gets very messy with a cake and a professional photographer captures the moment. After that, there is often a bubble bath, which is also caught on camera for posterity.
Q. How to make a smash cake?
While Red Lotus Cake Smash Photography provides a free smash cake for all clients who book a session, the following is a simple recipe if you prefer to go the homemade route:
Ingredients:
2 cups granulated sugar
1 cup unsalted butter,, softened
4 eggs
2 Tablespoons vanilla extract
3 cups all-purpose flour, (could also be made with cake flour)
3 1/2 teaspoons baking powder
1 1/2 cups milk, (I used whole milk)
Instructions:
1. Preheat oven to 350 degrees. Grease and flour baking pans, or line muffin tin with cupcake liners.
2. Using an electric mixer, beat the sugar and butter together over medium speed for 5-8 minutes. Add in the eggs, one at a time, beating well after each addition. Stir in the vanilla.
3. Combine the flour and baking powder in a medium sized bowl.
4. Alternate adding the dry mixture and the milk to the batter, beginning and ending with the dry mixture. Beat until just combined.
5. Pour mixture into prepared baking pans. See notes below for baking times.
Once baking time is complete, transfer baking dishes to a wire rack to cool. Once completely cool, remove cakes from baking dishes and frost with Easy Buttercream Frosting and enjoy!
Notes:
*This recipe is enough to fill two (1 quart) Pyrex baking bowls, as well as 12 cupcakes. It is also enough to make one 9×13 cake. Bake the two small cakes for about 35-40 minutes, or until toothpick in center is clean. I baked both of mine together on a cookie sheet. Bake cupcakes for about 18-20 minutes. I have not baked the 9×13 cake, but think it would probably be about the same as the two small ones. Just keep an eye on your cakes and check them periodically.
Q. Where to buy smash cake?
As mentioned previously, Red Lotus Cake Smash Photography provides a free smash cake to clients during the session.
If you prefer to bring your own, the following are options to investigate:
1. Fresh Market – Score a FREE 5″ round cake when you buy another cake over $25 at the Fresh Market, and you can order up to 24 hours before your party!
1551 Washington Rd, Mt Lebanon, PA 15228
(412) 831-5601
2. Giant Eagle Bakery – You can score a FREE smash cake with any purchase of a quarter sheet cake valued at $19.99 or more. The smash cake will be a 5″ round, single layer and cannot be added to an online order so make sure to call at least 24 hours before your party to scoop up this sweet deal.
7000 Oxford Dr, Bethel Park, PA 15102
(412) 831-1480
3. Super Target – If you're lucky enough to have a Super Target near you, complete with a bakery (yes, those really do exist!), you can receive a FREE smash cake with any purchase of a special-order round or sheet cake! We found this smash cake to be among the smallest free cakes offered, but still delicious! Call your local store to confirm!
201 S Hills Village, Pittsburgh, PA 15241
(412) 595-9380
4. Walmart – When you make a $14 or more bakery purchase, you can score a FREE 6″ round smash cake in either white or chocolate cake. Since these mini smash cakes are always available, you can order at any time and they'll even decorate it to match your main cake.
2351 Century Dr, West Mifflin, PA 15122
(412) 653-0300
5. Party Cake Shop
706 Brookline Blvd, Pittsburgh, PA 15226
(412) 531-5322
6. Le Cupcake Shoppe
109 Capital Ave, Pittsburgh, PA 15226
(412) 254-4295
7. Potomac Bakery
689 Washington Rd.
Pittsburgh, Pa 15228
(412) 531-5067
8. Whole Foods
111 Siena Dr, Upper St Clair, PA 15241
(412) 409-4550
Q. How big is a smash cake?
While Red Lotus Cake Smash Photography provides a free 5 inch, double layer custom smash cake, some people prefer their smash cake size to be three layers. Some have also created a four-layer tower cake that ended up being super cute for a first birthday. It's totally up to you on how many layers to bake, but a 4-inch diameter is just the right amount of cake if you try the homemade option.
Q. How much is a smash cake?
Since Red Lotus Cake Smash Photography provides a cake smash cake for free, you will not need to worry about the cost if you book a session. Generally speaking, a smash cake for babies is a 6″ two-layer cake and starts around $15.00.
Q. How to do a cake smash photo shoot at home?
1. Schedule your session with Red Lotus Smash Cake Photography. This was you don't have to worry about any of the additional steps below.
2. Put baby in clothes that contrast with the backdrop. You want baby to stand out, so avoid dressing him or her in clothes that blend in with the backdrop.
3. Choose a cake that will stand out. You want the color of the cake (the cake itself and/or the frosting) to be visible once it is on baby's hands and face. Chocolate cake typically stands out on children with lighter skin and white or yellow cake typically stands out on children with darker skin.
4. Take the photos after baby has napped and eaten. Grumpy babies have a hard time during photo shoots, so it is wise to take the photos at a time when baby is rested and has a full tummy (having a full tummy also keeps baby from eating too much cake—you don't want him or her to get a tummy ache from downing too much of the sweet treat).
5. Be prepared to bathe baby after the photo shoot. It's no surprise that baby will get messy during a cake smash, so be ready to run a bath as soon as you are done taking the photos.
Q. What size pan for smash cake?
If you schedule a cake smash photo session with Red Lotus Smash Cake Photography, everything will be taken care of. Otherwise, many prefer to use 6″ cake layers, but you can certainly use a 4″ or 5″ pan as well. Usually, you will use these pans to bake a few layers. You can use any of your favorite recipes.
Q. How to decorate a smash cake?
We believe smash cake photos are best taken with a simple and elegant frosting. Red Lotus Smash Cake Photography, provides such a decorated cake for free if you schedule a session with us. Otherwise, we recommend the following video:

Q. Here are some of the cake smash themes we have entertained for our clients in the past (at our Red Lotus Smash Cake Photography Studio):
Baseball Smash Cake
Lumberjack Smash Cake
Mickey Mouse Smash Cake
Giant Cupcake Smash Cake
Chocolate Dome Smash Cake
Watermelon Smash Cake
Pumpkin Smash Cake
Monster Smash Cake
Cookie Monster Smash Cake
Minnie Mouse Smash Cake
Chocolate Pinata Smash Cake
Hulk Smash Cake
Hollow Chocolate Smash Cake
Q. Where to buy cake smash outfits?
Red Lotus Smash Cake Photography Studio recommends timeless elegance when choosing an outfit. Options are available to consumers on Etsy or on Amazon.
Please feel free to contact me if you have any questions or would like to request my full pricing information!