Mom Gift ~ Gifts For Dad ~ Anniversary Gift ~ Gifts For Birthday
Looking for the perfect gift?  A photo session is something that will get rave reviews!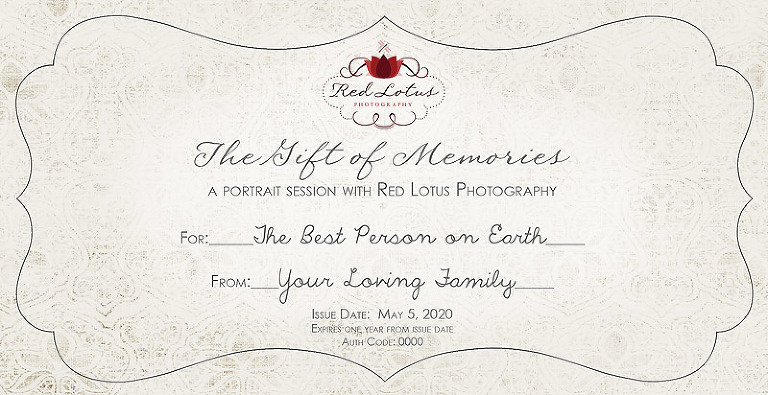 How it works: Choose your amount below; once you make your purchase, I'll provide you with your choice of either a printed gift certificate or an emailed gift certificate code that you can print yourself.  Then when the recipient has their photo session, the gifted amount will be subtracted from the balance of their order.
~~~~~~~~~~
What is the best gift for Mother's Day?
The top TEN best Mother's Day gifts:
1. A Red Lotus Mother's Day Photography Gift Card in a Certificate Format.
2. Pajamas & Loungewear.
3. Jewelry & Accessory Gifts.
4. Beauty Gift Ideas.
5. Family Names Throw Pillows.
6. A Deep Cleaning.
7. Custom Family Portrait.
8. Tile Sticker.
9. Aquis Original Hair Turban.
10. Crocs Classic Vacay Vibes Clog – Strawberry.
What is the best gift for Fathers Day?
Father's Day gifts: The best TEN ideas for any dad:
1. A Red Lotus Fathers Day Photography Gift Card in a Certificate Format.
2. Baseball Park Map Pint Glasses.
3. PhoneSoap Smartphone Sanitizer.
4. Kabob Grilling Baskets.
5. Personalized Family Print.
6. Brew Fest 5 oz. Glass Beer Tasting Set.
7. Cuisinart Griddler – Stainless Steel.
8. Monogrammed Forged Steak Brand.
9. Fitbit Charge 4.
10. GrandPro Tennis Sneaker.
What is the best gift for a man?
TEN Gift Ideas for Guys That You'll Totally Want to Steal for Yourself:
1. A Red Lotus Photography Gift Card in a Certificate Format.
2. Progressive Prep Solutions Microwave S'mores Maker.
3. Hot Sauce Kit Featuring Heirloom Peppers.
4. W&P Gin Kit.
5. 5-Layer Stadium Lighted End Table.
6. Pico C Craft Beer Brewing Appliance.
7. High Performance Cooler with Wheels.
8. CloudKnit Sweatpants.
9. Men's Pima Crew Pocket Tee.
10. 100 Movies Scratch-Off Poster.
Can you buy gift cards on Amazon?
You can order E-mail, Text Message, Print at Home, Anytime, Top-up, or Mail Gift Cards on Amazon or your could pair an Amazon gift card with a Red Lotus Photography Gift Card in a Certificate Format.
What can you use a Visa gift card for?
The Visa Gift card is a prepaid card welcome everywhere Visa cards are accepted. Visa Gift cards are loaded with a set amount of funds and can be used for multiple purchases for as long as value remains on the card. Giving a Visa Gift card puts the power of choice in the hands of your friends and family. Pair it with a Red Lotus Photography Gift Certificate for the ultimate gift-giving experience.
What is the best gift for a boyfriend in Valentine?
While heart-shaped chocolates are a go-to gift on Valentine's Day, it's best to give him something that'll really steal his heart:
1. Red Lotus Valentine's Day Gift For Him Photography Card In Certificate Format.
2. 101 Conversation Starters for Couples.
3. What I Love About You Fill-in-the-Book.
4. Six-Pack Greeting Card.
5. Pantheon Toiletry Organizer.
6. Dibrova Store Nightstand Organizer.
7. Ticket Stub Diary.
8. Vinyl Record Storage Shelf.
9. OtterBox Trooper Cooler 30 Quart.
10. Carhartt Shoreline Jacket.
What is a personal gift?
Personalized gifts are a great way to let someone special or a friend know you're thinking about them. A Personalized Gift Certificate from Red Lotus Photography, Custom books, prints, embroidered pillows, jewelry, and more can be personalized with important dates, custom engravings, inscriptions, and intimate messages.
What is best gift for anniversary?
Anniversary Gifts & Best Gift Ideas:
1. Red Lotus Anniversary Photography Session Gift.
2. Milestone Drop Necklace.
3. Goto Venetian Wine Glasses.
4. Personalized Skyline Wedding Art.
5. uKeg Nitro Cold Brew Maker.
6. Wooden Cheese Humidor.
7. Personalized Lazy Susan.
8. Breville Joule Sous Vide.
9. Stutterheim Stockholm Hooded Raincoat.
10. Kelty Journey PerfectFIT Elite Child Carrier.