***UPDATE***
Due to the current "Stay at home" order, I will be postponing indoor sessions until we are in the "green" phase.  The good news?  You can purchase a Gift Certificate for the perfect Mother's Day present!
Now booking: Mother's Day Mini Sessions
~Scroll down to book your session with our easy online scheduler~
Mamas, your children deserve to have photos with you!  Come to my studio for a special event dedicated to moms, grandmothers, and mothers-to-be.  Oh, and for all the Dads out there–fyi, these short and sweet little sessions make the perfect Mother's Day gift!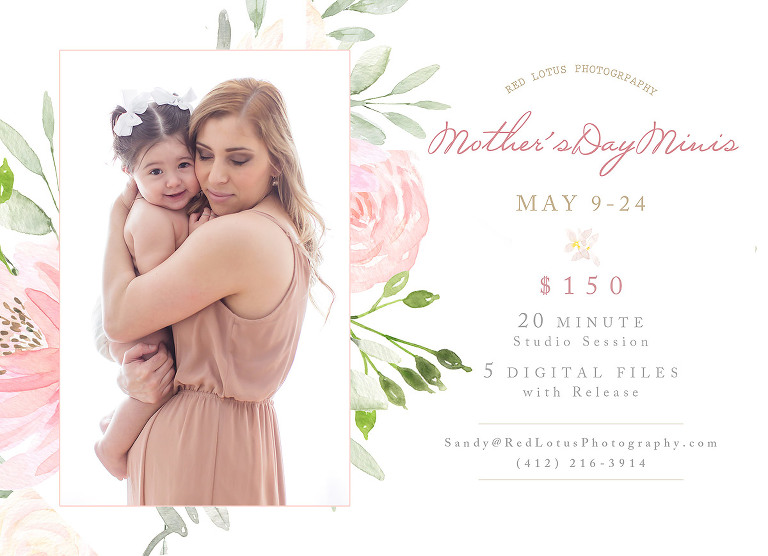 WHEN:  May 9-24
WHERE:  Red Lotus Photography Studio | 342 Station St., Bridgeville, PA 15017
TO BOOK: Sign up for your chosen time slot below and make your payment to reserve your spot
~Receive your download of digital files within one week of your session~
FAQs
Q: Can dads be in the photos as well?  Can just kids be in the photos?
A: Yes!  These photos are for moms to cherish, so anyone that mom wants to be in the photo is welcome!
Q: Can I buy a gift certificate and let mom choose the date and time?
A: Yes!  Please contact me and I will create a digital or printed gift certificate for you.
Q: I'm pregnant and just want a few maternity photos.  Can I do that with a Mother's Day session?
A: Yes you can!  This is a perfect opportunity for capturing this amazing time in your life.  Baby bumps welcome!
Q: Can I use a Mother's Day mini session for newborn photos?
A: 20 minutes is not enough time to do individual photos of baby, since wrapping, feeding, soothing, and posing take a good bit of time.  Please contact me for more information on scheduling a newborn session for the full experience!
Q: What should we wear?
A: The simple, neutral setting of the studio will be our backdrop; the walls, furniture, and decor will all be in calming tones of pale grey, white, and ivory.  This motif is classic and uncluttered, intended to go with a variety of clothing colors and styles.  Neutrals and pastels such as grey, tan, ivory, oatmeal, soft blues and pinks go particularly well, however this backdrop also goes well with bright colors if that is your preference.  You can never go wrong with clothing styles that are simple and classic.  One important tip–avoid short or tight dresses that will ride up when you sit down, causing the need to tug your hem down.  Maxi dresses and flowy blouses paired with leggings or jeans are always a safe bet.
~oOo~
TERMS
Copyright: Red Lotus Photography retains all copyright and provides a personal print release with all downloads. Red Lotus Photography may use images from the sessions for promotional use, both online or in print.  If you prefer not to allow this, please let me know.
Cancellations: Absolutely no refunds will be given, but you may transfer your session to another party, or you may leave your credit on file to use for a future session.
By finalizing your session you agree to the above terms & conditions.